Utah Resources
---
Utah Human Trafficking Statistics
Human Trafficking is happening in Utah. Check out Utah 2020 Stats to get a better picture of what trafficking looks like here in our state.
---
Utah's Response to Human Trafficking
To combat human trafficking in our state, Utah uses the 4Ps guiding framework which includes the four key elements: Prevention, Protection, Prosecution, and Partnership. All four elements are critical to an effective response to human trafficking. 
Prevention

Training and education programs
Awareness campaigns
Advocacy campaigns
Public and private sector policies
Protection services for persons who have experienced trafficking
Programs that address root causes of trafficking aimed at universal and selected communities

Protection

Social service advocacy & case management
Housing
Medical services
Mental health services
Outreach
Legal services
Training and education programs
State laws on victim protection/rights
Clothing and food
Interpretation/translation
Education
Life skills training
Employment assistance
Community re-integration

Prosection

Human trafficking protocols and procedures
Training and education
Task forces
State trafficking and trafficking-related legislation
Municipal trafficking and trafficking-related legislation
Attempted/successful civil and criminal prosecutions of trafficking cases

Partnership

Private sector
Public sector
Third sector
Protocols
Leadership
Group diversity
Resource leveraging
Trust building
Sustainability beyond an individual
Inclusion of vulnerable population perspectives
Effective communication
Conflict management
Management of competing interests
Utah Trafficking In Persons (UTIP) Taskforce
The UTIP Task Force puts the 4Ps into practice. UTIP Task Force's goal is to develop and enhance a multidisciplinary human trafficking task force that implements victim-centered, trauma informed, collaborative and sustainable approaches to identify victims, investigate and prosecute cases, and address individualized needs of victims through comprehensive quality services for victims of all types of trafficking in the state of Utah.
The UTIP Taskforce is supported by a federal enhanced collaborative model grant jointly held by Lead Partner Agencies:
Utah Attorney General's Office (UAGO)

Tasked to Investigate and Prosecute Human Trafficking in Utah through the SECURE Strike Force

The SECURE Strike Force is a multi-agency law enforcement body at the Utah Attorney General's Office, that is statutorily mandated to investigate human trafficking
Composed of federal, state, and local law enforcement agencies
Contact SECURE at 801-281-1200 to speak with an investigator or call 801 200-3443 to leave a tip

Asian Association of Utah

Tasked to provide direct victim services to human trafficking survivors. Click here to learn more about AAU's Trafficking Services.
---
Downloadable Materials
Awareness Posters
BE THE ONE in Utah's Fight Against Human Trafficking Posters
Other Campaign Posters
Look Beneath the Surface Posters. Available in multiple languages.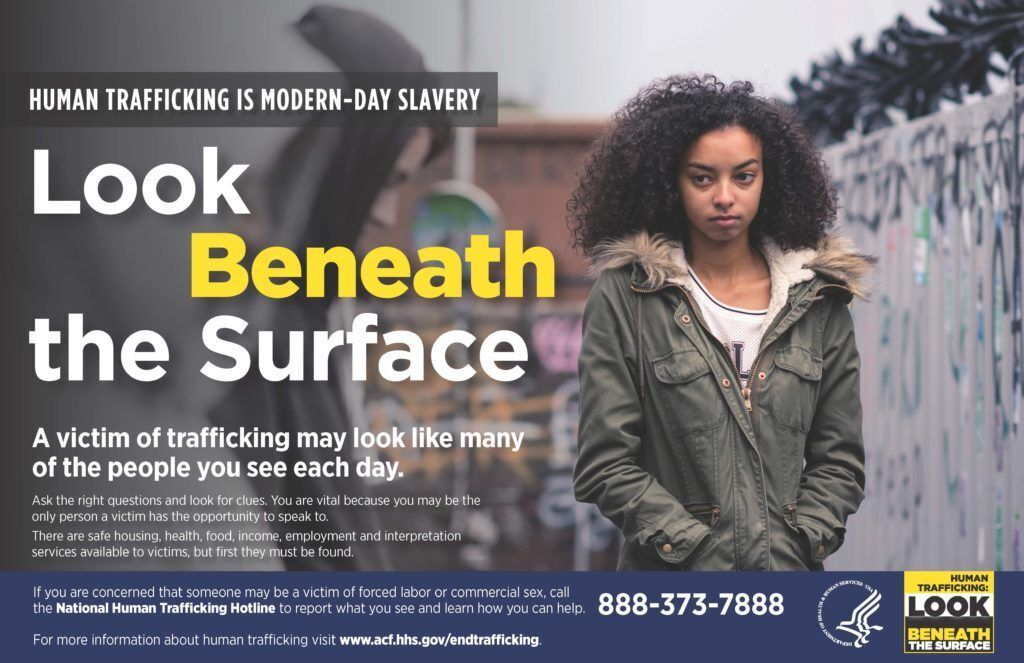 ---
Survivor Resources
Locate a Service Provider
Our Human Trafficking Victim Support – 155 S 300 W, SLC, UT 84101; 801-467-6060; trafficking@aau-slc.org
Victim-Centered Holistic Case Management
Wraparound Victim Assistance – the following services are delivered through a combination of in-house programs and collaborating partners:

Basic Needs Assistance
Housing Assistance
Mental Health Support
Medical and Dental
Employment
Education
Culturally responsive/ linguistically appropriate services
Safety Planning
Legal Advocacy
Victim Advocacy
Immigration Assistance
Substance Abuse Treatment
Life Skills
Peer-to-Peer Support
Family Reunification and support services
Transportation Assistance
Connection to Community

Outreach

Weekly Drop-In Center

Mobile Medical Care, Food, Hygiene, Clothing, Needle Exchange, Housing

Strategic Outreach Partners

Education

Request human trafficking awareness training

Survivor Leadership Programming
Partnership development/expansion
Lead Victim Service Partner of the Utah Trafficking In Persons Task Force
Additional Trafficking Services Providers (List does not represent a full list of all Utah providers)

General Service Directory

Click here to find a wide range of services in your zip code.