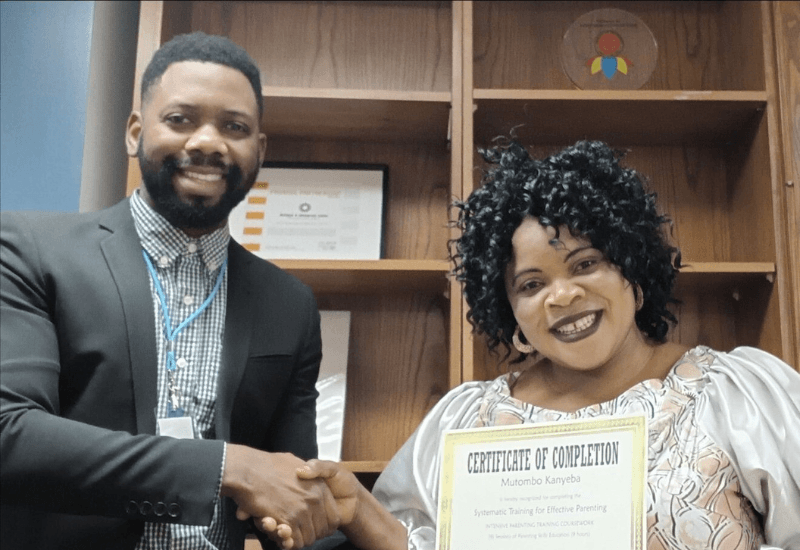 The Asian Association of Utah (AAU) introduces Mr. Fredy Ntambwe-Kalala, its Parenting Program Coordinator since July of 2023. Previously he served as the Salt Lake City Library's Community Wellness Liaison, and in other locally-centered public health initiatives since 2013.
A two-time University of Utah graduate (B.S. Human Development and Family Studies, M.H.A.), Fredy administers the AAU's "Systematic Training for Effective Parenting" (S.T.E.P.) Program, where he disseminates modern child-rearing techniques to Utah's kaleidoscopic refugee communities in an individually tailored, culturally-sensitive and success oriented setting. Not only does he bring a decade's worth of education and experience in the field, he is himself a refugee deeply familiar with what it takes to both survive, and thrive, in America.
Amidst the instability and violence surrounding the transition from Mobutu Sese Seko's Zaire to the modern-day Democratic Republic of the Congo, Mr. Ntambwe-Kalala's father, a former ambassador, was invited by the United States Ambassador to seek refuge along with his family. They would ultimately be resettled in Logan, Utah, when Mr. Ntambwe-Kalala was just fifteen years old, and he credits his parents' hard work, self-discipline and educational aspirations with his own personal and professional success. (Apples, falling, and trees notwithstanding, Mrs. Ntambwe-Kalala is herself a retired social worker and alumnus of the U's Social Work program.)
Today, he proudly instills those same values in his students, who consist of both refugee parents as well as instructor candidates from said refugee communities, intended to then recursively train other refugee parents on the Program's behalf.
"I am not here to command anyone on how to raise their kids…the keyword is collaboration. Many of my students hold strong opinions about sensitive topics such as corporal punishment, that may be in contrast to the Western cultural milieu. But by giving these parents and guardians new tools and perspectives on how to communicate with their children despite generational and language barriers, they can come to their own evidence-based conclusions about what works and what doesn't."
Fredy, who is fluent in English, French, Tshiluba, Lingala and Spanish, laughs candidly about one major challenge he faces from his students, no matter their religion, ethnic group or geopolitical origin.
"'You're a young guy, you have no kids, what do you even know about parenting?!' Whether said out loud or not, I hear this every time I teach. Of course, that's when I bring in my secret weapon."
He is referring to what he calls his seasoned volunteers: parents, from the same ethnic or cultural background as his students, for whom the S.T.E.P. Program has helped raise their own children to an undeniable degree of success. "They may not take me seriously, but when I have a community leader in the room co-signing every piece of advice I'm giving them, it's like night and day."
Truly, Fredy and the S.T.E.P. Program are an integral part of the vast array of critical community services provided by the AAU. Originally established in 1977 to support Asian immigrants and refugees transitioning to a new life in Utah, the AAU has expanded its resources to support trafficked persons, immigrants, and refugees from all over the world. With over fifty staff members from seventeen different nationalities fluent in over thirty languages total, the AAU offers a comprehensive docket of programs conveniently located in one downtown building, reducing transportation barriers and promoting access to a wide range of benefits. Individuals and families in need can get case management services, employment assistance, therapeutic counseling, mental health treatment, English classes, after-school tutoring and more. The AAU works closely with the various Utah resettlement agencies, refugee communities, state protective services, the United States Department of Justice, and many other concerns to ensure maximum support for its clients.

The Asian Association of Utah (AAU) is a registered 501(c)(3) organization and is funded by tax-deductible donations from readers like you.